International Journal of Clinical and Experimental Hypnosis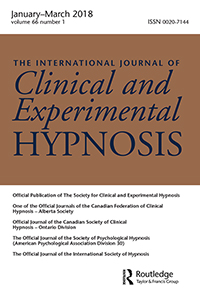 For over 50 years, the International Journal of Clinical and Experimental Hypnosis (IJCEH) has been the leading voice in hypnosis for researchers, scholars, and clinicians in psychiatry, psychology, social work, dentistry , and medical specialties. In fact, the IJCEH has been consistently ranked as one of the most influential publications in these respective fields, according to citation impact statistics (Source: SSCI Journal Citation Report). Whether you are involved in clinical work, counseling, research, or teaching, the IJCEH is your single essential resource to stay informed on the latest developments in hypnosis.I
IJCEH Journal Editor

Gary Elkins, PhD, ABPP, ABPH
Department of Psychology and Neuroscience
Mind-Body Medicine Research Laboratory
Baylor University
Waco, TX 76798
[email protected]
The IJCEH is the official publication of the Society for Clinical and Experimental Hypnosis. Each quarterly issue of the journal offers clinical and experimental studies, discussions of theory, book reviews, and seminal work by clinical masters. The IJCEH will keep you up to date on the latest clinical and research findings in the field, thanks to leading scholars from around the world examining such topics as:
Hypnotherapeutic Techniques
Pain and Anxiety Relief
Dissociative Identity Disorder (Multiple Personality Disorder)
Altered States of Consciousness
Delayed Recall
Dissociation
Forensic Uses of Hypnosis
Hypnosis in Eyewitness Memory
Hypnotic Induction in Dentistry
Hypnotizability
Post-Traumatic Stress Disorder
Self-Hypnosis
Control of Smoking
Weight Management
Ego State Hypnotherapy
Theories of Hypnosis
Physiological & Psychological Bases of Hypnosis
For more information please see www.ijceh.com.

Editorial Leadership History
| | |
| --- | --- |
| Milton V. Kline, PhD | 1953-1960 |
| Frank J. Kirkner, PhD | 1961 |
| Martin T. Orne, MD, PhD | 1962-1992 |
| Fred H. Frankel, MB, ChB, DPM | 1993-1997 |
| Michael R. Nash, PhD | 1998-2002 |
| Arreed F. Barabasz, EdD, PhD | 2003-2017 |