2020 Annual Conference -
Online for 2020
Thank You
Thank you to all who made our 2020 Annual Conference -- our 71st annual gathering and our first ever online -- a big success.
 
#SCEH2020 - Introductory, Skills and Advanced Workshops plus Scientific Program.

Workshops meet accepted Standards of Training in Clinical Hypnosis and count toward SCEH Hypnosis Certification Programs. Earn up to 24 CE over 5 days. Convenient online format using Zoom.

This event has ended.

Get the most out of the conference with our SCEH 2020 Attendee Quick Guide!

Questions?  Check out our FAQ - updated 10/16/2020.
Introduction
SCEH is very excited to be celebrating its 71st anniversary at our 2020 conference. The conference continues the proud tradition of SCEH meetings to focus on the evidence base of clinical hypnosis.  This year's event will explore some new and varied topics, while providing attendees the opportunity to gain CE credits, engage in vibrant debate and learn best practices and tools from instructors and colleagues.
All Presenters and Attendees are asked to familiarize themselves with SCEH Confidentiality Statement for Attendees and Presenters.
Agenda is subject to change.  SCEH reserves the right to cancel any workshop due to insufficient registration. Bookmark this page for the latest information. 
ADVANCE REGISTRATION IS REQUIRED.  Online registration deadline:  October 12, 2020 at 5 pm EST USA.  We regret we will not be able to accommodate last minute registrations.
Please note that all listed times are in Pacific Daylight Time (PDT).  Click here for help converting time zones.
Conference Theme
Our conference theme for 2020, Hypnosis to Enhance and Augment Treatment Outcomes, puts a focus on patient and client results and the power of hypnosis to positively impact patient care.
During these unprecedented and challenging times, our 2020 conference will focus on teaching skills, creative interventions, and applications of clinical hypnosis. Workshops across three levels (Introductory, Intermediate/Skills and Advanced) will review the utilization of hypnosis as an adaptable adjunct to other therapeutic interventions for enhancing treatment outcomes. Consistent with prior SCEH conferences, participants can also attend the Scientific Program, a Poster Session and some networking events.  The Scientific Program will offer keynotes, symposia and research presentations with speakers from across the world, addressing the scope of hypnosis in both psychological and medical settings.


Who Can Attend
Our events are designed for and open to: Psychologists; Physicians; Social Workers; Counselors; Dentists; Chiropractors; Master's level Nurses, Clinical Nurse Practitioners and Health Care Coaches; other Master's level licensed mental health and healthcare professionals, and clinical and experimental researchers in hypnosis.  Special student rates apply.
Any health care professional who is eligible for SCEH membership may register.  View SCEH membership eligibility requirements here.

Why Attend
SCEH training programs receives high marks from attendees.  Read some testimonials here or review this list for some reasons to attend:
•    expand your knowledge and learn new techniques you can put into immediate practice
•    gain insights about the latest scientific research supporting the evidence base of hypnosis
•    continue momentum toward certification without the need to travel
•    ask for and share ideas with colleagues to positively impact patient outcomes

In addition, with our event moving online due to Covid-19, attendees can also:
•    nurture professional and personal connections safely during Covid-19
•    save money on hotel and transport costs
•    win back time otherwise spent travelling


Schedule at a Glance
The 2020 Annual Conference will take place online, from Wednesday, October 14 through Sunday, October 18, 2020. 
Please note that all listed times are in Pacific Daylight Time (PDT).  Click here for help converting time zones.
Please see the conference brochure for: complete event details, times, agendas, descriptions, faculty and more.
Workshops
SCEH workshops teach participants hypnotic theory and practical techniques for immediate use in professional practice. Workshops are scientifically based and of the highest teaching quality. Most workshops include demonstrations and/or practica or other experiential components. Workshops meet accepted Standards of Training in Clinical Hypnosis and count toward SCEH Certification.
SCEH offers Introductory, Intermediate/Skills and Advanced level workshops.
Introductory (Basic) Workshop in Clinical Hypnosis
(Taken as a cohort)
Intermediate/Skills Workshops in Clinical Hypnosis
(Taken as a cohort, or Advanced Workshop registrants can choose from a selection of sessions.)
This workshop can be used toward intermediate certification or simply to refresh hypnotic skills.


Advanced Workshops in Hypnosis
(Choose from a selection of full or half day concurrent sessions or mix and match with Intermediate/Skills Workshop sessions.)
 See the Conference Program for full details.
Scientific Program
The Scientific Program features keynotes, research presentations or symposia that address empirical issues in hypnosis research and practice and related areas. Research presentations shine the light on novel empirically based findings, including experimental studies, case reports, clinical trials, meta-analyses, and systematic reviews. Symposia bring together top-notch researchers as they critically discuss empirical findings pertaining to a specific theme of relevance to the hypnosis community. Many symposia integrate research and practice or draw upon research in psychology, psychiatry, or neuroscience to highlight issues that improve our understanding of hypnosis. Our poster session provides another glimpse into the latest research in the field.
The Scientific Program is a general session.
 See the Conference Program for full details.


Keynotes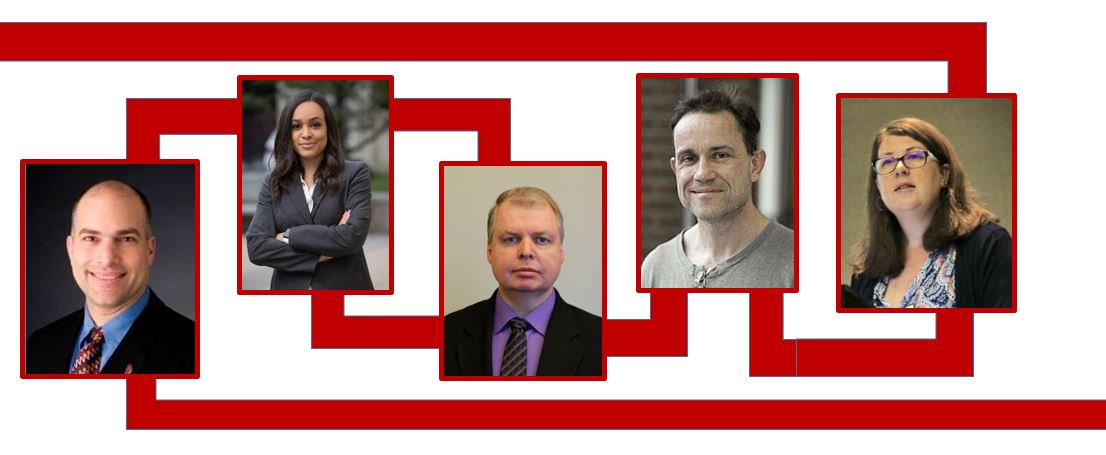 Shown above, in order of appearance, from left to right: Amir Raz, PhD; Amanda Calhoun, MD, MPH; Olafur Palsson, PsyD; Zoltan Dienes, DPhil and Amanda Barnier, PhD
Keynotes (listed in order of appearance)
Saturday, October 17
9:45-10:45 AM PDT
Exploring the Neuroscience of Suggestion: from Words to Higher Vision
Amir Raz, PhD, Professor, Director, Institute for Interdisciplinary Brain and Behavioral Sciences, Crean College of Health and Behavioral Sciences; Psychology School of Pharmacy, Chapman University, Orange, CA, USA
12:00-1:00 PM PDT
Invited Address - Hypnosis and the Sunken Place: How Jordan Peele's 2017 Movie, Get Out, Illustrates the Dehumanization and Silencing of Black Americans by White Society
Amanda Calhoun, MD, MPH, Yale Child Study Center/Yale School of Medicine, New Haven, CT, USA
1:00-2:00 PM PDT
Making Clinical Hypnosis a Mainstream Component of Healthcare for Physical Problems: Perspective and Lessons from 25 Years in GI Hypnosis
Olafur Palsson, PsyD, Professor of Medicine, University of North Carolina, Chapel Hill, NC, USA
Sunday, October 18
9:45-10:45 AM PDT
Phenomenological Control as Cold Control
Zoltan Dienes, DPhil, University of Sussex, Brighton, UK
1:00-2:00 PM PDT
Unravelling the Mysteries of Hypnotizability: A Componential Approach
Amanda J. Barnier, PhD, FASSA, Fellow SCEH, Pro Vice-Chancellor (Research Performance) and Professor of Cognitive Science, Macquarie University, Sydney, Australia


Continuing Education Credit (CE)
 
The SCEH  Annual Conference is    co-sponsored by the Society for Experimental and Clinical Hypnosis  and  The Institute for Continuing Education.   The program  offers continuing education credit as listed below.    Continuing education credit is awarded on a session-by-session basis with full attendance required for the sessions in which you participate.    Partial session credit is not offered.   There is no  fee to apply for  continuing education credit.     
Course Completion:  To qualify to receive continuing education credit, participants  must complete the CE materials and comply with Attendance Monitoring.  CE verification is mailed to attendees within 30-days following the receipt of completed CE materials.
Questions: If you have   questions regarding continuing education,  the program, faculty, or for a listing of learning objectives, comprehensive speaker bios,  please contact  The Institute at: 800-557-1950;  e-mail:  [email protected].
Commercial Support:  The Institute for Continuing Education receives no funds from any commercial organization for financial support of its activities in providing continuing education sponsorship. The Institute's sponsorship of this Conference does not imply endorsement of featured exhibits.
Note:  It is the responsibility of attendees to determine if continuing education credit offered by The Institute for Continuing Education meets the regulations of their licensing/certification board.
Continuing Education Offered:
Psychology:  The Institute for Continuing Education is approved by the American Psychological Association (APA) to sponsor  continuing education for psychologists.  The Institute for Continuing Education maintains responsibility for this program and its content.   Not all sessions may offer psychology CE credit.  CE materials will indicate any non-credit sessions; or you may contact The Institute for Continuing Education within 30-days of the Conference at:  [email protected]
Social Work:  Application for social work continuing education credits has been submitted.  This website will be updated regarding accreditation.
Skill Level:   Due to the interdisciplinary nature of this Conference, workshops have not been ranked for skills level ( beginning, intermediate, advanced).  Participants are urged to review session description for appropriateness for professional and personal development.
Instruction Methodology:   May include lecture, audio-visual, demonstration, experiential practice of techniques.
Ethics Hours / Academic Credit:  The Conference offers no "academic" credit and CE hours awarded are not eligible toward fulfillment of a degree.  No "ethics" hours are offered.
Continuing Education Hours Offered: 
Introductory Workshop:                    12.50 hrs.
Intermediate/ Skills Workshops:      13.00 hrs.
Advanced Workshops:                       13.50 hrs.
Scientific Program:                             9.00 hrs.
* hrs. are awarded based on actual participation
----------------------------------------------------------------------------------------------------------------------------------------------------------------
CME NOTE: Medical CE credit is not available for this conference. We welcome any inquiries from members, colleges or universities who can work with us to obtain CME for future meetings.
 
Pricing and Registration
Registration rates vary depending on selected package.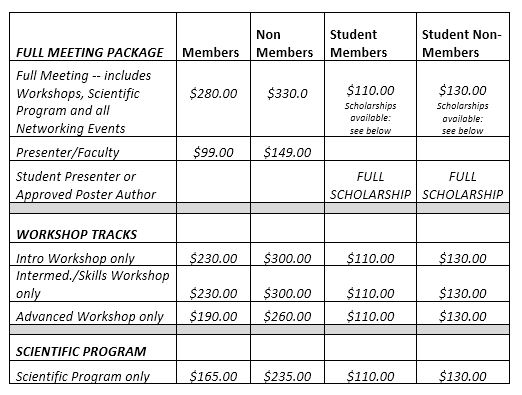 2020 Conference Registration
REGISTRATION IS CLOSED
ADVANCE REGISTRATION IS REQUIRED.  Event registration deadline:  October 12, 2020 at 5 pm EST USA.  We regret we will not be able to accommodate last minute registrations.
ALL ATTENDEES AND FACULTY MUST REGISTER ONLINE:  All attendees and instructors must register online.
PAYMENT OPTIONS:  After you hit the Submit button, you are brought to the payment page where you have the option to pay by credit card at that time or mail a check.  If paying by check, you must still complete an online registration form.  Your check must be postmarked no later than October 1.  Note that registration is not complete until payment is received.  Make checks payable to Society for Clinical and Experimental Hypnosis, and mail to 305 Commandants Way – Commoncove Suite 100, Chelsea, MA 02150-4057 USA.
EARLY BIRD REGISTRATION DISCOUNT: in effect to September 13, 2020.  Please note: all registration prices above increase by $75 after September 13. Register before 9/13 to secure the best pricing.
CANCELLATIONS AND REFUNDS: Cancellations received on or before October 1 at 5:00 PM EST USA will be issued a refund, minus a $75 processing fee. No refunds will be made after October 1, 2020.
PRICING NOTES
Special Discounted Rate for SCEH Members:  SCEH Members receive a discounted registration. Current member status will be verified at the time of registration.  If you wish to join, please do so before registering to receive member pricing.
Special Discounted Rate for Conference Faculty/Presenters:  Faculty/Presenters are provided with a discounted registration for the Full Conference Package.  When registering, Faculty should select Faculty Member or Faculty Non-member Pricing, according to their member status.
Special Discounted Registration for Students Who Present or Are Approved for the Poster Session:  Students who give a Research Presentation, Workshop or who participate in a Symposium are given a 100% scholarship and attend for free.  Students who are approved for the Poster Session are given a 100% scholarship and attend for free.  Students who qualify in these categories will be sent special instructions on how to register for the conference.
Special Scholarships Available for Qualified Students and Trainees*
To build the next generation of clinicians and leaders in the field of hypnosis, Society for Clinical and Experimental Hypnosis (SCEH) is offering an expanded program of Student/Trainee Scholarships to attend its 2020 Annual Conference. Scholarship recipients will be able to attend the event for only $15 (a value of up to $130-330, depending on their professional status and conference selections).
To be eligible, applicants must be either be:


A student member of SCEH or a student eligible for SCEH membership*

OR
A Student/Trainee pursuing a program of study leading to a degree that makes the recipient eligible for licensure as a health care professional providing direct patient or client care (e.g., medical school, dental school, graduate study in psychology, social work, nursing); or, having earned the degree, be enrolled in an internship or residency required for licensure; or, be a trainee in a postdoctoral fellowship program

*Before applying, please review SCEH member eligibility requirements.
SCHOLARSHIP APPLICATION DEADLINE:  September 18, 2020 - EXTENDED ONE WEEK!
Note: Applications will be reviewed on a rolling basis and the scholarships will be closed if we exceed our quota before the deadline. Incomplete applications will not be reviewed. Approved scholarship recipients will be notified and sent details on how to register.


APPLICATION REQUIREMENTS


1)   Provide a letter, attesting that you are a current student /trainee, in an approved mental health related discipline, in good standing, at your institution or university.  This letter should come from your Academic Advisor/ Research Advisor or a Primary Instructor.  Email it to [email protected] using the subject line "Student Trainee Documentation" and your name.
NON-MEMBERS WISHING TO APPLY FOR MEMBERSHIP – PLAN AHEAD FOR MEMBER PRICING:  To be eligible for member rates, please join BEFORE you register for an event to take advantage of member pricing.  Please allow 2-3 weeks for your completed membership application to be reviewed by our Membership Committee. If applying for student member you must submit proof of status.  Access the application form and member eligibility details at: https://www.sceh.us/apply-for-membership.
QUESTIONS?  Email [email protected], call 617-744-9857.
Getting Conference Info & Updates
We encourage you to bookmark this page and check back for updates.  We also encourage attendees and presenters to share conference info with peers and on social media.  Thank you.
To ensure that you can receive emails from the Society --  including event confirmations -- please take a moment now to add our email  addresses to your safe senders list or address book or whitelist them with your e-mail provider.
Social Media

#SCEH2020 is the hashtag for the 2020 Conference of the Society for Clinical & Experimental Hypnosis (SCEH). Please use it in all posts and mentions you add to social media.  We appreciate your helping us to spread the news about this event. Thank you.
2020 Conference Committee
  Overall Meeting Chairs:   Ciara Christensen, PhD and David Reid, PsyD
Introductory Workshop Co-Chairs:  Barbara McCann, PhD and Tova Fuller, MD, PhD


Skills Workshops Co-Chairs:  Alexandra Chadderdon, PsyD and Deanna Denman, PhD


Advanced Workshops Co-Chairs:  Ciara Christensen, PhD and Catherine McCall, MD

Scientific Program Co-Chairs:  Barbara McCann, PhD and Vivek Datta, MD, MPH
Members:  Janna A. Henning, JD, PsyD, FT, Zoltan Kekecs, PhD, Shelagh Freedman, MA, Anne Doherty Johnson, Executive Director
71st Annual Workshops and Scientific Program

Hypnosis to Enhance and Augment Treatment Outcomes
October 14-18, 2020 -  Online for 2020!
#SCEH2020
Save the Date!
2021 Annual  Conference
72nd Annual Workshops & Scientific Program
Oct. 13-17, 2021
Sheraton Park Hotel at the Anaheim Resort, Anaheim, CA
#SCEH2021
CE Packet - must be received by SCEH by November 30, 2020